Posts Tagged 'News & Notes'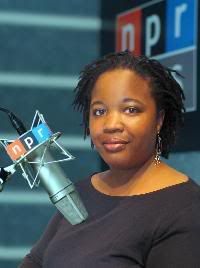 It seems that as time changes, nothing seems to ever change as it relates to African American issues in our society.  Growing up in the 1950s I often heard the refrain, that blacks were the last hired and the first fired.
That trend continues as National Public Radio, a liberal news organization, has just announced they are discontinuing the Program, "News & Notes, hosted by veteran broadcast and digital media journalist Farai Chideya.  NPR cites the fact that the program received low ratings and did not attract the funding necessary from national sponsors. [...]
In addition the News & Notes, the station also eliminated the program "Day to Day".
"News & Notes" was a one-hour daily program and was produced at the NPR West studios in Culver City, CA. A roster of respected experts contributed regular segments on a wide range of subjects, with input from the program's audience [...]