Posts Tagged 'Hurricane Katrina'
Hip-Hop Emcee/Newscaster, Jasiri X returns with his weekly Hip-Hop newscasts. For this week, current events include the Santa Clause-shooting spree, the absurd incidents in the last days of '08, the lethal unrest in Gaza, President-Elect Obama's "No Comment" response to the plight of Palestinian peoples, the reports of White Vigilante-justice in post-Katrina and more:
Categories:

african american bloggers, barack obama, black bloggers, black news, black social commentary
Tags:

barack obama, Barack The Magic Negro, Gaza, Gaza Strip, Human Rights, Hurricane Katrina, Irael, Jasiri X, Movie Theaters, Palestine, Palestinian, Rush Limbaugh, Santa Clause, This Week With Jasiri X, White Vigilantes, Your Black Hip-Hop, Your Black World
The way Donnell Herrington tells it, there was no warning. One second he was trudging through the heat. The next he was lying prostrate on the pavement, his life spilling out of a hole in his throat, his body racked with pain, his vision blurred and distorted.
It was September 1, 2005, some three days after Hurricane Katrina crashed into New Orleans, and somebody had just blasted Herrington, who is African-American, with a shotgun. "I just hit the ground. I didn't even know what happened," recalls Herrington, a burly 32-year-old with a soft drawl.
The sudden eruption of gunfire horrified Herrington's companions–his cousin Marcel Alexander, then 17, and friend Chris Collins, then 18, who are also black. "I looked at Donnell and he had this big old hole in his neck," Alexander recalls. "I tried to help him up, and they started shooting again." [...]
Herrington shouted at the other men to run and turned to face his attackers: three armed white males. Herrington says he hadn't even seen the men or their weapons before the shooting began. As Alexander and Collins fled, Herrington ran in the opposite direction, his hand pressed to the bleeding wound on his throat. Behind him, he says, the gunmen yelled, "Get him! Get that nigger!"
[FYI: This is by no means "news" to those who consistently payed close attention to Katrina's latest developments. For more info on this, pls. visit: http://www.cwsworkshop.org/katrinareader/node/573].
Three years since Katrina and the government continues to fail us. Malik Rahim has spoken out with courage, asked the difficult questions and built viable community alternatives. He is a strong organizer who acted while the politicians waited. Now he wants to take his courage to Congress.
After Hurricane Katrina, Malik founded Common Ground, an organization which:
opened the first free health clinic in the city of New Orleans,
helped MLK Elementary and other schools to re-open, and
gutted over 3,000 homes and provided direct services to nearly 200,000 returning residents.
Malik is in a winnable race for U.S. Congress in Louisiana's 2nd District. The Louisiana Secretary of State changed the elections calendar after Hurricane Gustav, so the general election for that seat is on Dec. 6.
"We still have one more Congressional election within our grasp," writes Cynthia McKinney, legendary former congresswoman from Georgia and this year's Green Party presidential candidate [...]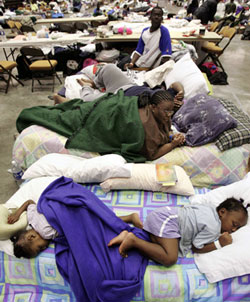 Even before the storm, they were some of the country's neediest kids. Now, the children of Irwin Redlener, president of the Children's Health Fund and a professor at Columbia University's Mailman School of Public Health. According to a new report by CHF and
Mailman focusing on 261 displaced children, the well-being of the poorest Katrina kids has "declined to an alarming level" since the hurricane. Forty-one percent are anemic—twice the rate found in children in New York City homeless shelters, and more than twice the CDC's record rate for high-risk minorities. More than half the kids have mental-health problems. [...]
Some kids may end up with permanent developmental and cognitive delays, but many can still be helped. The first step will be finding them. FEMA was supposed to provide Louisiana with contact information for the families that moved out of the trailers; it has not done so [...]
New Orleans' youthful, outspoken mayor grabbed the national spotlight after Hurricane Katrina and government incompetence conspired to destroy his city. Three years and another hurricane later he's facing a different flood-of crime, corruption, and scandal-and this time there's no FEMA to blame.
Nagin's office décor mirrors the city's culture, a mix of Spanish, French, and African influences: On one wall, there is a bright painting; behind his desk hangs an African quilt featuring jazzy embroidery of musical instruments; leaning against a wall is a photo of Nagin greeting Bush during the Katrina crisis.
[...]
The mayor's unwillingness to tolerate criticism hardened into a state of willful denial this summer, thanks to a scandal involving a program run by the New Orleans Homeownership Corp. News reports revealing that contractors had charged the city for work they did not do prompted the convening of a grand jury. Nagin doesn't seem worried about the federal investigation, even though one of the program's highest-paid contractors—S&A Construction—is run by his brother-in-law, Cedric Smith. He vows that Smith will face justice if he is culpable. "Everybody's looking at it," Nagin says with a smile, "which is great. Because now I've got professional investigators versus bloggers."
Despite the iconic post-Katrina images of New Orleans citizens waving for help from their rooftops, a voluntary-evacuation order by Nagin had cleared most of the city [...]
Categories: african american bloggers, black bloggers, black celebrities, black news, black social commentary
Tags: Beloved, black news, Black Professors, Black Women, Discrimination, England, Headlines, Hurricane Katrina, Kanye West, Lawsuit, Michelle Obama, Senior White House Advisor, Toni Morrison, Valerie Jarrett, Your Black World
By: Tolu Olorunda
Staff Writer – YourBlackWorld.com
In light of Sen. Obama's historic win on Tuesday night, certain perspectives must be taken into consideration in order to avoid being taken for a 4 year ride, which provides nothing, having promised NOTHING! In the long and winded 20-month battle for a seat at the table of presidency, Sen. Obama has often conducted himself with an unimpeachable level of dignity, grace and humility. Nevertheless, there have been times when the Good Senator has fallen short of those ranks. In fact, he has, throughout the course of his presidential bid, played the 90% hand that fed, clothed, nurtured and made him: The Black Community. Whilst many Black progressives seem quite comfortable with being snubbed – in exchange for a Black presidency – not every card-carrying member of the Black Community appreciates the Illinois Senator's disposition on the issue of Race. They are fully aware of the tightrope which needs to be walked for a Black man to transport himself to the pedestal of history, but many see a tension between overt opportunism and the potential for a progressive Black president. In my humble judgment, there are ten issues of concern to the Black Community on which Sen. Obama has failed woefully in the course of his political career and this historic campaign:
More At Your Black Power
Lost ones (revised)
Dedicated to my former students and young brothers labeled as throwaways
By: Yorri Berry
On his eighth birthday
He doesn't get a bike
Just a prison cell with his name engraved on the exterior
Because he can't read as well as his counterparts a little less tan than he is
And his intellectual inability has less to do with his tanness
Rather his lack of in-demandness
Because his blackness means that he doesn't make the priority cut on their checklist
So instead of buying more books and hiring more qualified and credentialed educators for the underperforming school that never taught him how to read
They add a pair of handcuffs to the inventory list because he'll never graduate anyway
Check the rates
For little colored boys like him finishing high school makes him the exception
So no need for a college fund
No need for updated books and a college preparatory curriculum
No need to build state of the art computer labs when we can just install more metal detectors
Because his name is no longer little colored boy failed by the system, the schools, the inactive daddies held hostage in the prison cell a few blocks down from the one they're building for him, and the high and mighty middle class of educated black folk who dare not care long enough to matter
His name is just criminal
Or criminal junior who looks just like his criminal senior pops he never met
So we treat him like one
And when we walk down the street next to him clutching our purse noses in the air we greet him like one
And when we fail to feed him truth that says you better read until you can't read anymore because by age 18 they expect you to be in prison not college we deceive him like one
Little black boy when I see you I don't clutch my purse…
Read The Full Poem At Your Black Brothers
Presidential candidate Cynthia McKinney, during a news conference at the Crticial Resistance 10 Conference in Oakland, California on Sept 28th, 2008, made an astounding statement that backs up several reports that I have received in the last year from contacts in Louisiana regarding unjust slayings of citizens. Listen and watch carefully:
McKinney not only relates what an informant has reported to her, but states that insiders in the Red Cross have confirmed to her that it is true. If this is indeed true, and I regretfully believe it, based on what I have heard and read (see below), then this is a damnable crime of massive proportions, in a word, a massacre of Americans, and must be brought to light.
Georgianne Nienaber, who has written for OpEdNews on the subject of extrajudicial slayings previously, booached this ghoulish topic in an article entitled Baghdad on the Bayou: Disaster Capitalism and the War on Equality, dated Dec 3, 2007. Here are some excerpts from this article, which was based on an interview with Cajun Blues artist Tab Benoit. In it Benoit is claiming that there were many more people slain by the authorities and Blackwater than is being told. In fact, he is alleging that Blackwater was blowing people (read Blacks basically) away left and right…
Annette Benjamin tried to wait out the storm in her modest home. But when the floods came, the walls collapsed around her. Neighbors pulled the 53-year-old to safety, but everything she owned was gone.
For the next four days, Benjamin waded through the stinking river Rue Cristophe had become, trying not to step on the bodies buried in the muck. She was among tens of thousands desperately searching for food and clean water in a city of 160,000 that had less and less of both.
Help finally arrived Friday in the form of a giant container ship delivering the first aid to Gonaives since Tropical Storm Hanna hit. One of Benjamin's daughters, a policewoman, had arranged for her to catch a ride to the capital on the ship's way back.
"I almost died. My house is destroyed. I lost everything," Benjamin said. "I cannot stay in Gonaives anymore, because they say the storms are going to return again."
Indeed, Hurricane Ike, a dangerous Category 3 storm, was swirling in the Atlantic with 120-mph winds, and forecasters said it would almost certainly bring more rain to the region over the weekend…