Posts Tagged 'Civil Rights'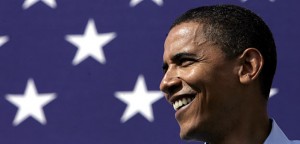 by Dr. Boyce Watkins, Syracuse University – Scholarship in Action 
I gave a speech at a church in upstate New York shortly after Barack Obama was elected President of the United States.  During the service, the choir director took the liberty of changing the words from the song "We shall overcome," to "We HAVE overcome."  I also remember hearing a woman outside the speech proudly announce that she had just bought a new picture of President Barack Obama.  The woman said she was going to put the image right next to her pictures of Martin Luther King and Jesus.  Apparently, Obama's election was a second-coming of Juneteenth for those who seemed to feel that a black president could do no wrong.
But there is a more fundamental question in all of this:  Should President Obama's image be placed next to those who've fought for Civil Rights in the  past?  In recent survey by YourBlackWorld.com, 62.9% of the 734 respondents said they do not consider President Barack Obama to be a true Civil Rights Leader.  Another 28.5% said that they do consider President Obama to be a Civil Rights leader.  The rest claim they aren't sure.  
According to reference.com, Civil Rights are defined as "rights to personal liberty established by the 13th and 14th Amendments to the U.S. constitution and certain Congressional acts, especially as applied to an individual or a minority group."
There's no record that Alaska governor and Republican vice presidential nominee Sarah Palin uttered anything more than the obligatory complimentary congratulations to the woman that beat her out for the Miss Alaska title in 1984. The winner was Maryline Blackburn, an African American. A ritual congratulatory wish from Palin would have been about the only public acknowledgment to date from her in an instance, in this case a beauty contest, where Palin was confronted with the issue of diversity in the person of a competitor.
Since then, Palin's record on race and diversity has been the blankest of blank sheets. The probes into Palin's record on diversity and civil rights have almost exclusively focused on her views on gay rights, same-sex marriage and equal pay. These are crucial civil rights issues. But so are racial diversity and civil rights.
The Web site OntheIssues.org gives a comprehensive look at the positions of elected officials on the major issues based on their statements, speeches, campaign materials and policy-position papers. Palin has taken no position on immigration, affirmative action, job and housing discrimination, school re-segregation, police-minority community relations and racial disparities in the criminal justice system.
The site did list two terse positions Palin took on hate crimes legislation and cultural diversity. Both give a tiny window into the would-be vice president's thinking on diversity and civil rights. During the 2006 gubernatorial campaign, she told the Eagle Forum that she opposed expanded hate crime legislation…
Today it's the Baltimore area's turn.
Tomorrow, it will be DC metro and the training will go on until every police agency in Maryland knows the procedures training and standards needed to enforce the states' new DNA collection law.
"With this arrestee law we're hoping to get those samples into the lab get them run and search through the database in a very timely fashion so that those people can be if they're linked to a crime be taken off the streets quicker." Teresa Long said. Long is the acting director of the state's police's forensics department.
The law says the state can take a DNA sample from someone charged with a crime of violence like murder, rape robbery certain sexual offenses…or a burglary.
Twelve other states have similar laws.
But the American Civil Liberties Union and the Maryland Legislative Black Caucus say the law that they agreed to is not in the regulations that implement it and their question is this who watches the watchers.
The caucus says the regulations circumvent protections they brokered with the governor that would protect when samples can be taken, how they're taken and handled, and when those samples have to be destroyed and the record expunged.
In the past eight years, there have been problems handling evidence at the Baltimore County Crime Lab, The State Police Lab and more recently at the Baltimore City crime lab.
They say DNA may be perfect, but people and procedures are not.
State Senator Delores Goodwin Kelley of Baltimore County says the implementation of the law is flawed and the current labs are already overtaxed.
"He would push forward a massive new source of DNA so called evidence when the system is already faulty is overburdened it has no standards" Goodwin Kelley said.
But the state says the implementation follows the law…