Your Black President: Will Obama Have to Be Better Because He's Black?
Just days before he was sworn in, President Obama was giving his daughters a tour of the Lincoln Memorial when one of them pointed to a copy of Abraham Lincoln's second inaugural address carved into the wall.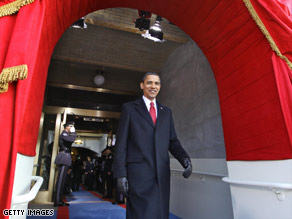 President Obama strides into history as the nation's first black president.
Obama's 7-year-old daughter, Sasha, told her father that Lincoln's speech was really long. Would he have to give a speech as long? Obama's answer was completed by his older daughter, 10-year-old Malia.
"I said, 'Actually, that one is pretty short. Mine may even be a little longer,' " Obama told CNN recently. "At which point, Malia turns to me and says, 'First African-American president, better be good.' "
The story is light-hearted, but it touches on a delicate question: Will people hold Obama to a different standard because he is the first African-American president?
Americans appear split by race on that answer. According to a CNN/Opinion Research Corp. poll, 53 percent of blacks say the American public will hold Obama to a higher standard than past presidents because he is black. Most whites — 61 percent — say Obama's race will not matter in how he will be judged.
The question divided several people who were racial pioneers themselves.
Alexander Jefferson was one of the first blacks allowed to become a fighter pilot. He was a member of the Tuskegee Airmen, a group of black pilots who escorted bombers in World War II.
"We had to be twice as good to be average," he says.
Obama won't face the same pressures he did because his presidential predecessor was so inept, Jefferson says.
"No, the world is ready for him," he says. "The [George W.] Bush debacle was so depressing."
Jefferson was shot down by ground fire on his 19th mission and spent a year in German prison camps. He wrote about his POW experiences in "Red Tail Captured, Red Tail Free: Memoirs of a Tuskegee Airman and POW."
Jefferson says he dealt with the pressures of being a racial pioneer by drawing on the strength of black leaders who opened doors for him.